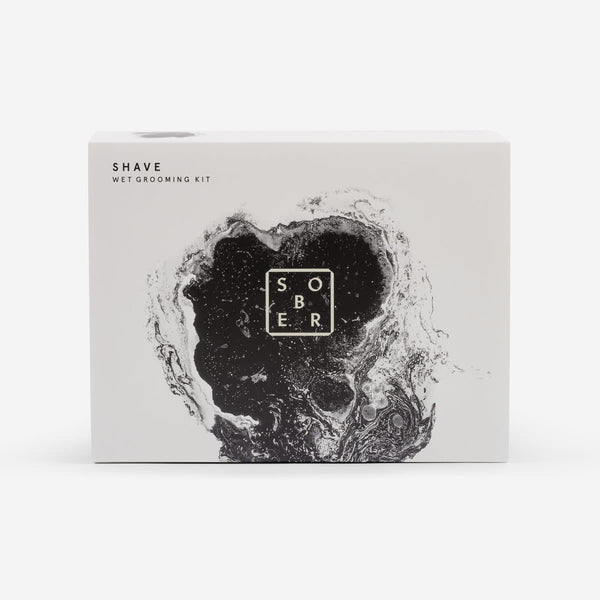 Shave Wet Grooming Kit Set
Whether for the beginner of the classic shave or for an ecological upgrade of the wet shave - the Shave Wet Grooming Kit is an extraordinary gift for men. The gift box contains our black safety razor made of stainless steel, the vegan shaving brush made of aluminum and our skin-soothing aftershave against razor burn, pimples and skin irritations, which provides moisture for 24 hours.
The sober Shave Wet Grooming Kit is equipped with three luxurious utensils for shaving and skin care:Ideal for getting to know the products of the sober care series and being able to experience perfectly shaved and well-cared for skin. All products are contained in the original sober packaging. The after shave is delivered in our exclusive brown frosted glass bottle. An unusual present and a special gift idea for a friend, dad or a classic birthday - delivered in the black sober metal box.
---
Contents of the gift set
This gift for men consists of our fine safety razor, a shaving brush with Silvertip Fiber bristles and an After Shave Repair Fluid (50ml) packed in our original sober metal box in matt black.
---
Clean care concept
We guarantee that our cosmetic products are 100% free from all questionable ingredients. That means safe use and the best of science and nature. In principle, we do not use harmful, carcinogenic, toxic skin-altering or, in our opinion, questionable ingredients in all products, which are often used in conventional cosmetics. So none of our products contain petrochemicals, alcohol, artificial fragrances, silicones, synthetic colors, PEG-based polymers, sodium lauryl sulfate, nitrosamine sources, parabens, paraffins, diethanolamine (DEA), triethanolamine (TEA) and no polycyanoacrylates or microplastics. No products or their ingredients are tested on animals in accordance with EU legislation.

Shave Wet Grooming Kit Set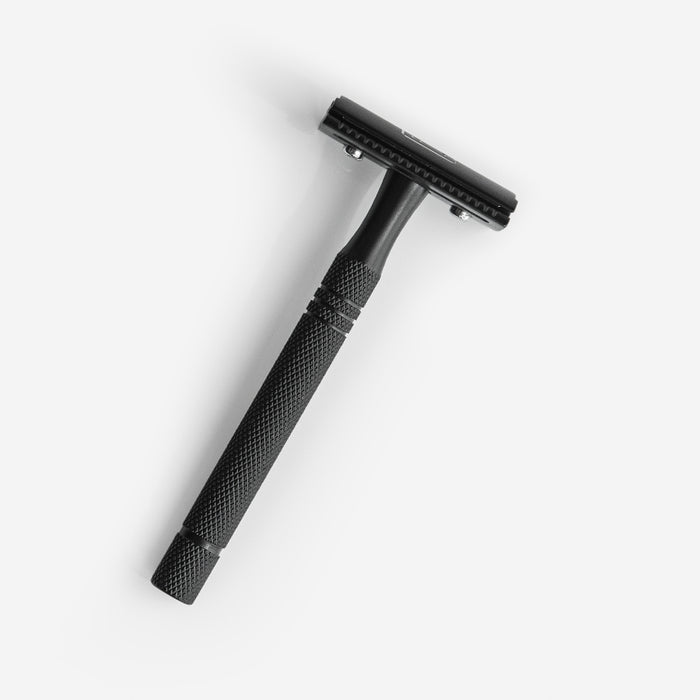 1. Stainless steel safety razor
The best wet shave requires the best tools: our safety razor for the classic wet shave impresses with its casual elegance and masculine design. With a length of 10 cm and a combat weight of 88 g made of robust stainless steel (head made of die-cast zinc), no beard hair can fool this weapon. With this new safety razor, we are giving men a well thought-out and ergonomic tool that makes wet shaving easier and more thorough than ever before. Delivered with 5 blades, it is ready to start immediately for a particularly close shave without irritation. Handmade in Solingen.
2. Aluminum shaving brush
Ready for a great shaving experience at all times, even when travelling. The sober shaving brush made of light and stable aluminum and superior in use Silvertip Fiber is the perfect tool to achieve a foaming effect on the shaving cream and raise the whiskers so that the blade evenly over the skin The extraordinary design of the head allows the brush to breathe, even when it is immersed in the case, to prevent any bacterial growth from the start. Made in Germany.y.
3. Aftershave
The Shave Wet Grooming Kit contains our popular After Shave Repair Fluid. Whether dry shaving, trimming or the classic wet shave, all of this is stressful for every skin. Our aftershave combats redness, skin irritation and micro-injuries caused by shaving. The strongly soothing and antibacterial ingredients it contains help the skin's protective layer to strengthen its natural resistance to daily aggressions. Thanks to the moisturizing care it contains, it is sensitively formulated and provides long-lasting moisture and a refreshing feeling on the skin.
What sets us apart
01

OUR DESIGN

We stand for the value of good design. We consistently follow the path of a responsible, ecological and conscious design of our products. Form and function stand for high quality and concentration on the essentials. Our goal is timeless design, simple and practical in use.

02

OUR VISION

Our aim is to produce effective and harmless care products. We want to create the best products of their kind with vegan high-tech natural cosmetics and at the same time be unobtrusive in form and style. We stand for supreme satisfaction and beauty without compromise. Our goal is not always new products, but always better ones.

03

OUR PHILOSOPHY

We call the concept for effective and gentle skin care Clean Beauty: More powerful than pure natural cosmetics and without harmful conventional ingredients from the cosmetics industry. Clean Beauty combines the best of nature and science: Optimal skin tolerance and maximum effect.

04

OUR BRAND

Founded in Berlin in 2017 as an independent cosmetics brand, our cosmetics meet the highest standards of effectiveness and sustainability and are produced in Germany. Our mission is look great. Feel great therefore we consider inner happiness as part of our outer beauty.it.

05

OUR PROMISE

We guarantee that our products are free of petrochemicals, alcohol, artificial fragrances, silicones, synthetic colors, PEG-based polymers, sodium lauryl sulfate, nitrosamine sources, parabens, microplastics, paraffins, diethanolamine, triethanolamine, polycyanoacrylates and are produced without animal testing.

06

OUR TEAM

We prefer to work in teams than with deep hierarchies. We welcome people from all over the world who share our values. We think globally and act locally. We work together in research, product development and design on the diverse tasks that we face every day to achieve better results every day.
ADVANTAGES WHEN YOU ORDER FROM US