Our toiletry bag is handmade in Berlin from 100 pieces of leftover jeans and, with plenty of space, is suitable as a cosmetic or storage bag. In the interior there is a flexible rubber band for attaching cosmetics or other items. The toiletry bag offers 2 hooks for hanging and can be securely closed with the snap hook in two different sizes depending on the amount of content. For cleaning, the bag can be washed in the washing machine at 30 degrees. Coloring may vary depending on the jeans.en. Dimensions: 32 x 8 x 29 cm
Material & care
Upcycling jeans denimm)
Recycled cotton lining

Elastic rubber band

Vegan
Machine care at 30°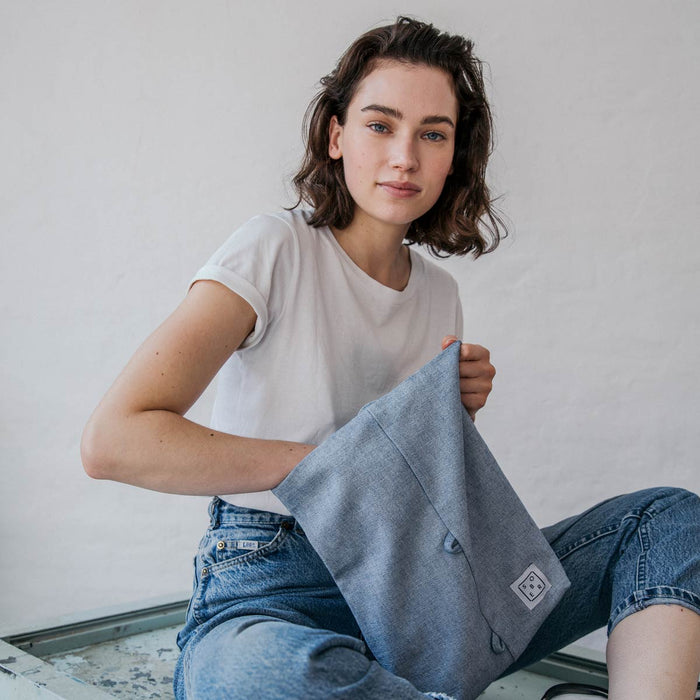 Upcycling denim fabrics - 100% handmade in Berlin
Our denim collection are real local Berlin upcycling products that are made by hand from textile remnants under fair conditions to a high-quality design. The denim is obtained from a cooperation with the Berlin City Mission, a non-profit organization that helps people in need. The final processing with refined details takes place in a studio in Berlin Mitte. Inner lining and textile labels are selected according to our sustainability criteria. Rearranging material for a clean look is at the heart of our design process: we update artisanal techniques to create handcrafted, resource-efficient one-offs with a contemporary look..
fair production. Local manufacturing.
The sober denim collection is made with fabric remnants from industrial production or discarded, already worn clothing (pre- or post-consumer waste) and processed with high-quality inner lining, making each piece unique in light or dark denim. In order to save Co2, all transport routes between clothing sorting, laundry and sewing are covered by bicycle couriers. In cooperation with a Berlin weaver, leftovers are processed into woven carpets. This is how we create our own system of local, fair and social production, handmade with care in Berlin.n.
ADVANTAGES WHEN YOU ORDER FROM US